This year, Safe Passage Foundation has disbursed 11 scholarship grants totaling $2550 and 21 emergency aid grants totaling $8044. This is a significant increase from last year when we disbursed 9 emergency aid grants totaling $2175.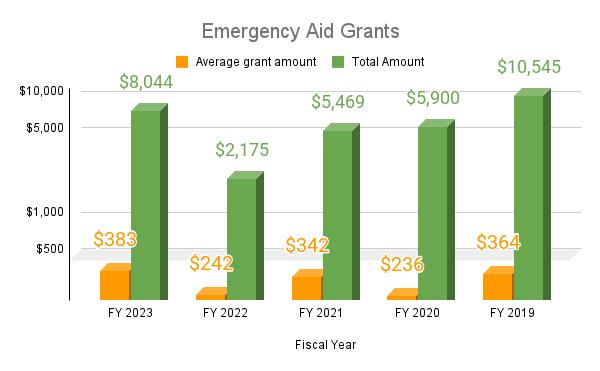 Nearly all of the emergency aid grants we disbursed were for emergency food and housing needs. In the U.S. and most of the world, there are large gaps in the social safety net programs that help protect those with urgent needs related to economic or health crises. Over the years, our emergency aid program has evolved to help fill those gaps as those raised in cults often lack the resources and social support structures that others take for granted. Currently we are meeting only a tiny percentage of the vast need and in most cases the financial assistance we are able to provide is very limited but fortunately we have been able to help a few people.
In March 2021, Safe Passage Foundation borrowed $7600 at an annual interest rate of 2.75% through the COVID-19 Economic Injury Disaster Loan program administered by the U.S. Small Business Administration. The availability of these funds has enabled us to increase our operating reserves so we are more financially stable and able to provide emergency assistance faster. In September 2022, Safe Passage Foundation purchased $3000 in Series I savings bonds with an interest rate of 9.48% for the first 6 months and 6.89% for the second 6 months. We expect the interest earned on these bonds will help offset the interest cost of the EIDL.
Currently, nearly all of the Safe Passage Foundation operating expenses (which average about $150/month) are paid directly by our corporate sponsor, MadLab so the only operating expenses in recent years are the credit card donation transaction processing fees.  For the current fiscal year, those fees totaled $104 or about 1.44% of the $7200 in donations received.